In this news page you'll find events happening in our Gardena facility.
LAB FIVE WELCOMES GARDENA COMMUNITY WITH GRAND OPENING
Lab Five celebrated new soccer training facility with Gardena Mayor, Councilmembers, and hundreds of participants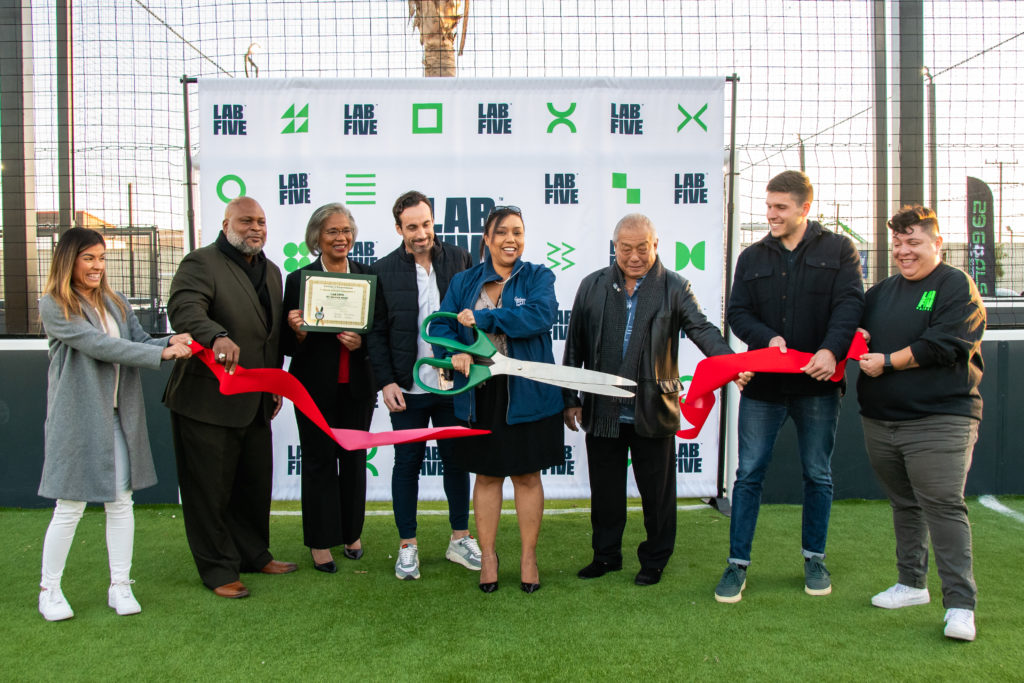 (From left to right: Lab Five Coordinator Erica Solano, Councilmember Mark Henderson, Mayor Pro Tem Paulette Francis, Lab Five CEO Sebastien Abonnel, Gardena Mayor Tasha Cerda, Councilmember Rodney Tanaka, Lab Five Director Romain Bianchi, and Lab Five Facilities Manager Tory Lathrop. | Source: Lab Five – Sandra Velez-Lopez)
Gardena, CA (January 21, 2023) – Lab Five celebrated the Grand Opening of their Gardena location on Friday evening with several hundred participants in the community.
The Lab Five facility in Gardena is a world-class 5-a-side facility featuring seven new turf fields, an event clubhouse, an outdoor patio with upcoming viewing screen, and a rooftop deck
The evening began with a ribbon cutting ceremony as Mayor Tasha Cerda, Mayor Pro Tem Paulette Francis, and Councilmembers Mark Henderson and Rodney Tanaka presented a Certificate of Congratulations to the Lab Five staff.
"I think the new Lab Five location is really great for Gardena because we really want to encourage our kids to get active again," said Mayor Cerda. "Unfortunately, with COVID, everyone was stuck inside, and we want to re-introduce them to going outside and going to the park, playing soccer, and being part of teams again and this facility is definitely on the right track that we want to go in our city."
Lab Five CEO and Founder Sebastien Abonnel also presented a gift to the Gardena City Council with a Lab Five soccer ball to recognize the collective partnership that made this milestone possible.
"We're really proud to finally open our facility," said Abonnel. "We are excited to have a great future with the City of Gardena and a long-term partnership to provide the best soccer experience for our community and we believe this is just the beginning for what's to come."
The celebration throughout the evening included a Teqbal exhibition, a youth pickup game, a celebrity game with local players, and freestyle footballers sharing their skills and talents with the community.
Additionally, the facility hosted several teams and programs who reserved field rentals for the evening. With the facility, Lab Five partners with Football For Her to provide free fundamentals courses and pickup games to young girls and those who identify as non-binary.
"I think the environment at Lab Five is a friendly one," said soccer parent Noel Mendoza. "I like the fact that my daughter enjoys socializing with other kids and she's made so many new friends by coming to Lab Five and participating with Football For Her. As a parent, we try to do what we can for our kids, and I think this is an amazing place for anyone who enjoys soccer."
With players from the youth level to adult ages, the facility provides an atmosphere that is welcoming to guests of all ages through various academies and leagues, field rentals for teams, and by hosting special events in the future.
ABOUT LAB FIVE: Lab Five is an outdoor soccer training facility that is on a mission to help expand the number of five-a-side players globally, within diverse cultures and communities. In addition to the new Gardena location, Lab Five also has a facility in Pacoima and plans for additional growth.
Lab Five was founded in 2019 and currently hosts several thousand participants on a weekly basis through their various academies from after school programs, adult leagues, youth leagues, and pick-up games, field rentals, and hosting special events at their primary location in Pacoima, CA.
Lab Five is a community partner with Football For Her, Olé Soccer Club, City of Gardena Parks & Recreation Department, U.S. Soccer Foundation, Los Angeles Football Club, Angel City FC and many others.
---
GARDENA GRAND OPENING
We are excited to announce the Gardena Grand Opening happening this Friday January 20th, 2023.
Gate opens for the public at 5:30pm. There will be plenty of soccer activities: celebrities' game, Teqball exhibition, live music with a DJ, photo booth, "red" carpet, drinks and food, and much more!
Bring a friend and enjoy the party!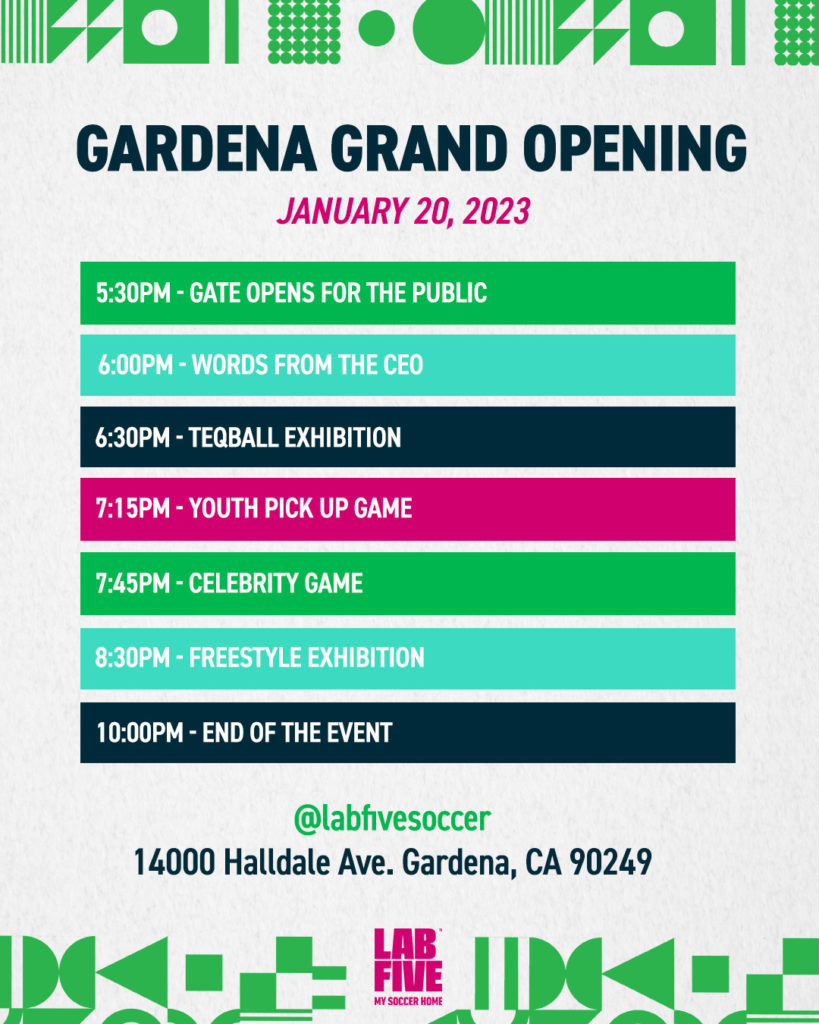 ---
HAPPY NEW YEAR 2023!
We wish you all a Happy New Year! That's why we are offering a $20 discount on our services! Fill out this form and redeem your gift before February 1st of 2023 at the front desk of your chosen location.
WINTER ACADEMY – JANUARY 10TH
The GARDENA ACADEMY takes off Wednesday January 10th! Our cycle for 10 weeks, ending on March 18th. Our programs are the following: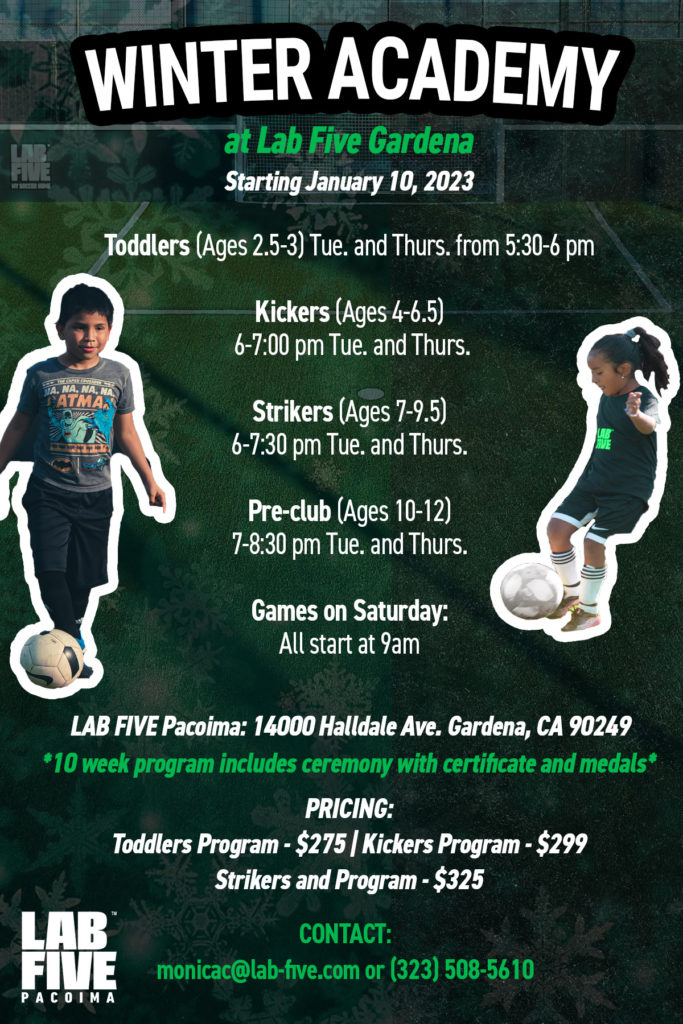 TODDLER PROGRAM ($275) – 2.5 years old to 3.5 yo. Practice Tuesday and Thursday from 5:30pm to 6pm.
KICKERS PROGRAM ($299.99) – 4 years old to 6.5 yo. Practice Tuesday and Thursday from 5:30pm to 6:30pm.
STRIKERS PROGRAM ($325.00) – 7 years old to 9.5 yo. Practice Tuesday and Thursday from 5:30pm to 7pm.
PRE-CLUB PROGRAM ($325.00) – 10 years old to 12 yo. Practice Tuesday and Thursday from 5:30pm to 7pm.
Everyone will have games every Saturday starting at 9am.
Each cycle includes a Lab Five uniform along with an end of the season ceremony and medals.
Register with this link, or Contact Monica at (323)508-6510.
---
DECEMBER IS HERE
The last month go the year is here and we are bringing great news to finish strong!
FREE PICK UPS EXTENSION!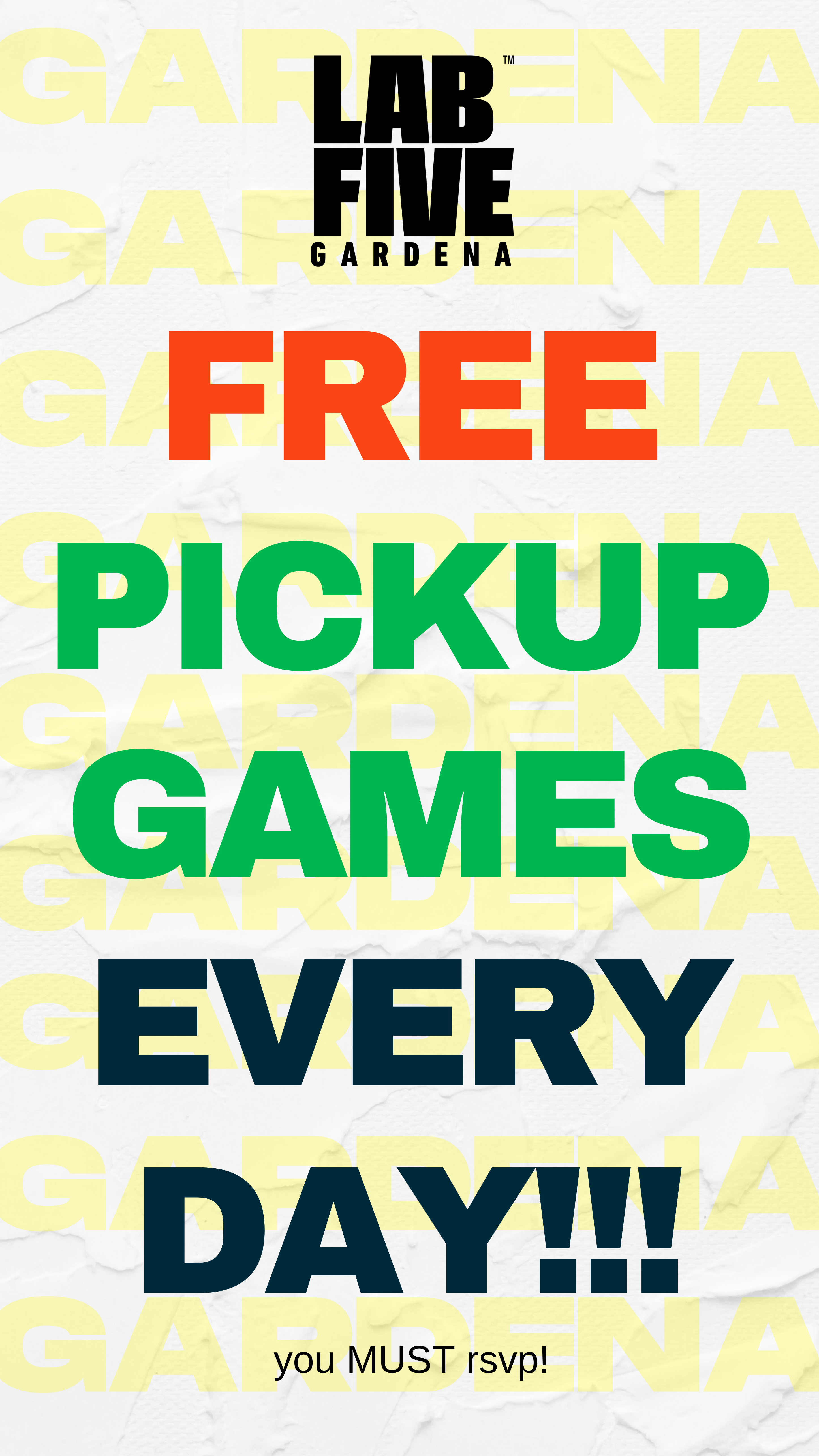 On November 17th, Tory, the Gardena Facility Manager, announced 4 weeks of FREE pick up games. December 16th is coming up but we have decided to extend the FREE PICK UPS until December 30th. All you have to do it rsvp in advance with this meetup link.
Take advantage of this great deal and head to our fields before 2022 is over, let's end on a high note!
ACADEMY WINTER SEASON
This Academy season is about to end and we will be starting our Winter Season on January 10th. Practice days are Tuesday and Thursday and we have kids from ages 2.5 to 12 years old. On the image above you'll find a table with the schedule of the Winter Season and details of each program.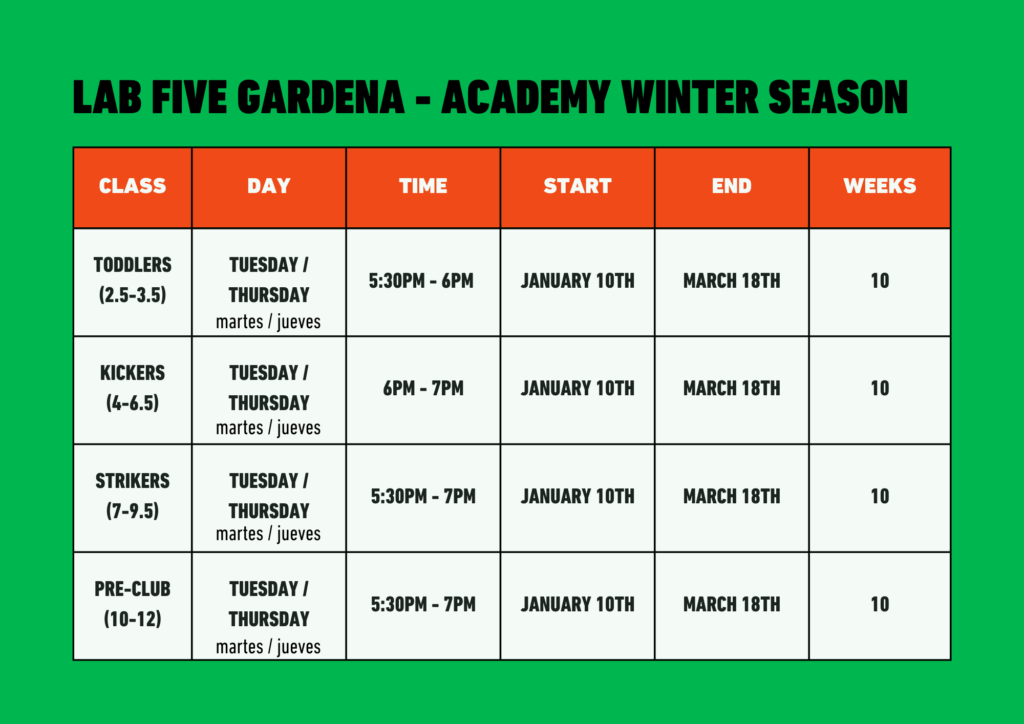 Are you new? Come to one of our practice day and try it out before you make any decision! Contact our youth coordinator Monica at (323)508-5610 for more details or register with this link.
---
LAB FIVE GARDENA OPENS ACADEMY REGISTRATION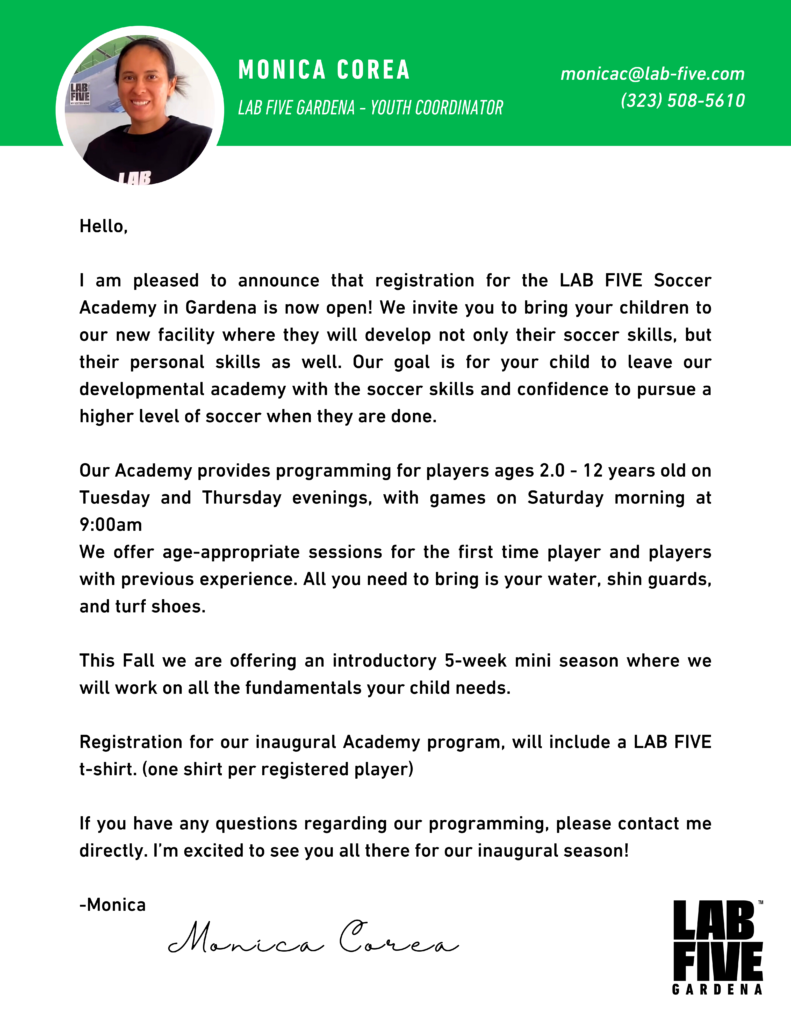 To register please complete the enclosed JotForm LAB FIVE Gardena – Academy Registration
To complete your payment online please click here: LAB FIVE Gardena – Academy Payment Link
---
TRUNK OR TREAT AT LAB FIVE GARDENA
Happy Fall Everyone!
LAB FIVE Gardena invites you to join us this Halloween weekend at the following events: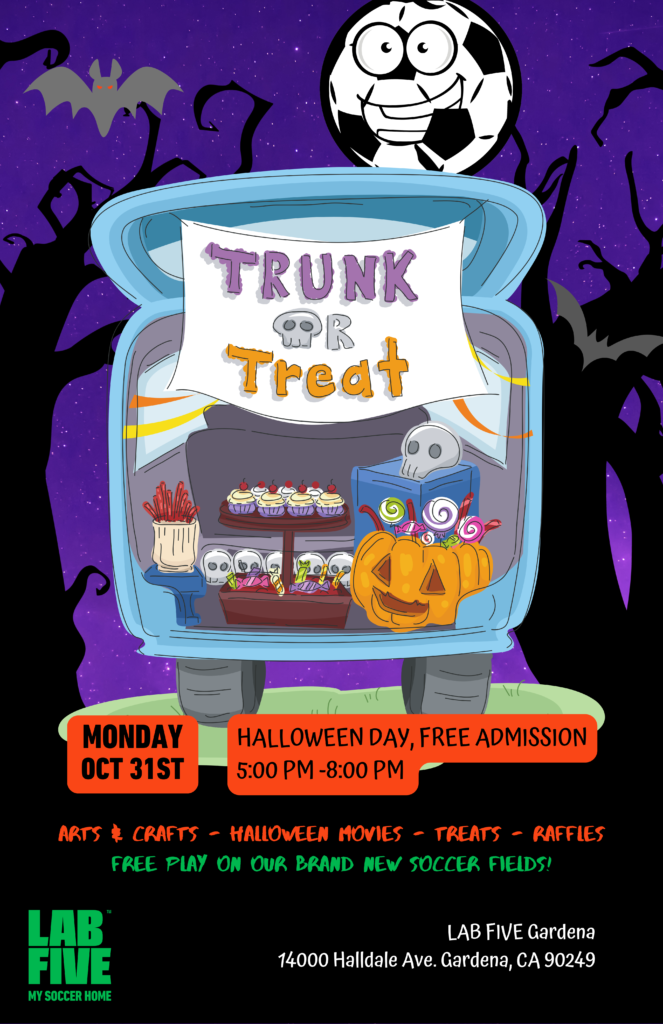 Saturday, October 29 at the City of Gardena – Too Cute to Spook Event
City Hall Lawn – 1700 W. 162nd Street from 5:30-7:30pm, Ages zero to ten
Monday, October 31 at LAB FIVE Gardena – Trunk or Treat
14000 Halldale Ave from 5:00-8:00pm
We're excited to welcome the following organizations to our event:
• Angel City Football Club
• El Camino College
• Gardena Fire Department
• Gardena Recreation & Human Services
• Gardena Police Department & Police Foundation
• Gardena Transit
• KIPP Generations Academy
• Rebellion 99, Official Founding Supporter Group for Angel City Football Club
Pick up some sweet treats, create some arts 'n crafts, and get an EXCLUSIVE first look at out our new fields!
Bring your blanket and/or lawn chair to enjoy our movie on site starting at dusk.
Our event is open to youth of all ages and their families.
Please note, all guests must park along Halldale or Brighton; main parking lot will be for community partners & trick or treating.
Register for the event here.
See you there!